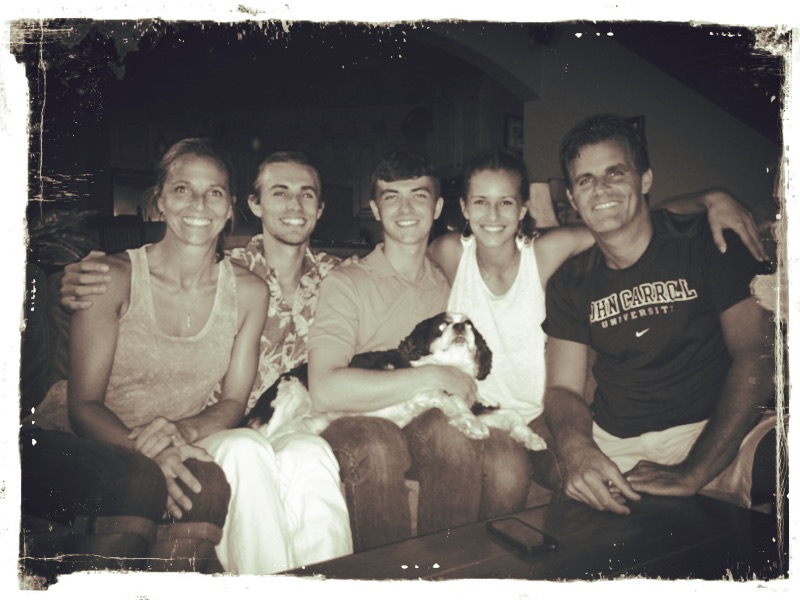 Welcome In Love!
So, this is my fam damily. I am a daughter of the King blessed with an adoring husband who I fell in love with at first sight. After speaking with him for ten minutes my junior year in college, I rushed home to tell my roommate I found the man I'm going to marry. She cackled, rolled her eyes to dangerous levels, and told me I was crazy. A year later I was engaged. And here we are 24 years later with three beautiful children ages 23, 21, and 19, still 'crazy' in love.

Empty nest took me by surprise because just the other day I had three kids coloring walls, picking their nose, filling up bug boxes, and building pillow forts. Now the vacant space only echoes the beautiful chaos that once livened rooms and breathed life in the air. Though silence looms, the memories exude a joyful clamor. Well, let's be real, at least most of them do.

Watching my kids morph into adults continues to teach me more about who I am and the meaning of life than all the formal education inked on my resume. I often muse in rhetorical wonder over what Mr. God was thinking when he put me in charge of three kids. He's quick to remind me of my capabilities, but sometimes does so while crossing his fingers behind his back. Hmf

Facebook
Twitter
Pinterest
Instagram
StumbleUpon
The last twenty-three years I've run the gamut as a working mom, work-from-home mom, stay-at-home mom, and now empty nest mom. My journey includes profound wonder, humbling failure, painful diversions, and glorious blessings.

Seems like God always knows what's going on with the state of my heart, which is a template for my demeanor, and, turns out, a measure for the quality of my mothering. Since Hollywood doesn't give out mothering awards, I just give thanks for my better moments and sweep my ugly seasons under the rug with a broom of repentance. God's grace heals me from within. Of course, I then beg him to clean up the mess I've created in the souls of my kin. Oy vey.

Jesus keeps encouraging me to Carrie Underwood my mothering style, reminding me my children belong to Him. Everything will be fine-o if I just surrender and trust. Although I'm learning to let go of the wheel one white knuckle at a time, some days I still pretty much stink at it. Why? Because mothering is h.a.r.d. And, let's not forget, the being human thing.

All I know for sure is motherhood is a gift. Timeless, priceless, patternless, and endless. This journey we share as sisters in Christ and mothers by heartstrings allows us to connect in the deep recesses of our souls in ways only a mother can understand.

The busyness of life weighs all of us down and certain ages and stages wreck our confidence and drain self-love from our pores. We layer ourselves beneath protective false fronts far too often to hide our brokenness, conceal our fears, and bury our insecurities. Our struggles are real and anxieties universal, which is why I created this blog. Leaning in to one another and sharing stories helps us connect and find solace in knowing we aren't alone on a motherhood island. Though our journeys are unique, our dreams, fears, joys, sorrows overlap.

I invite you to join me in this space where we will wander into our mom hearts in search of our true self and reach upward to Jesus for guidance and understanding. Here we will celebrate our joys and mourn our losses, laugh til we cry and cry til we laugh. I want you to feel loved and accepted for who you are, precisely where you're at.

The thing is, a whole lot of mish mash gets in the way of authentic living. The mom gig defies order. Life blows order up. But here I want you to feel safe throwing off the pretense and embracing the real. The real real…like all of it. I like to believe one breath at a time matters most, while worrying about what will happen a week, month, or year from now matters least. Steady wins the race.

As we glean more insight about who we are as women, wives, and mothers, our identity in Christ will find room to surface. Which is why I look forward to connecting heart-to-heart so we can inspire, encourage, and love one another forward through the beautiful role we've been given.

I look forward to hearing from you! Contact me here.

And if you want to receive my posts–you get free stuff and we can become cyber mom friends!–sign up here. You can choose to receive my posts each week (I only post once a week, you're welcome), or you can sign up for a month-end recap. Can't wait to connect with you and swap stories of motherhood and all things sisters-in-Christ!

Let's know love and Be LOVE, sisters.