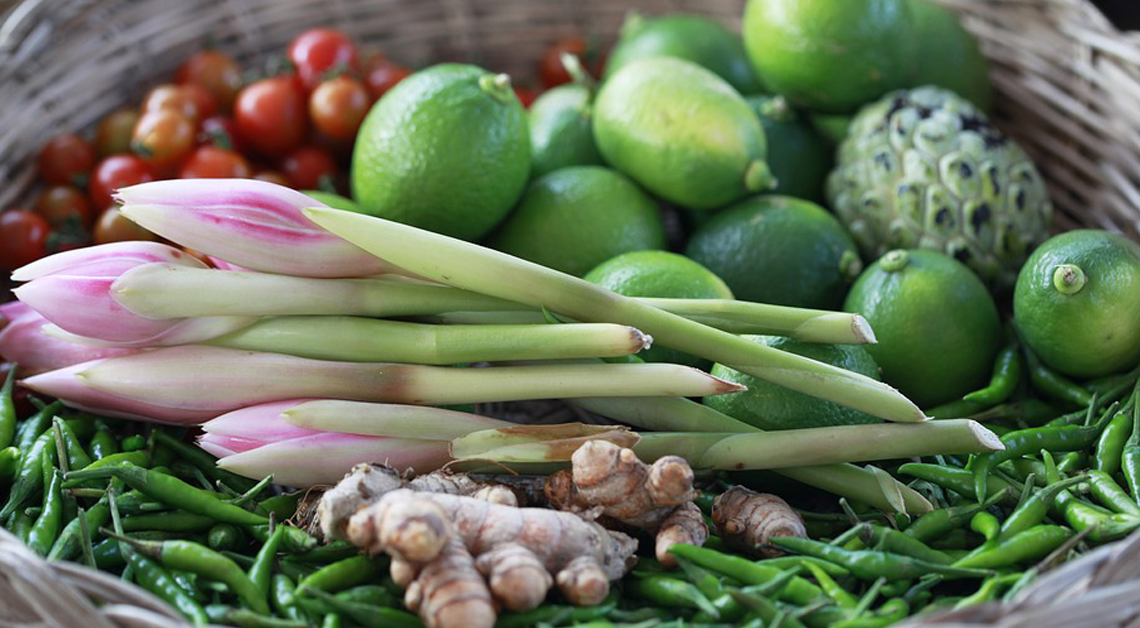 The diet craze is produced by the LP label, Restriction Records. If the brand escapes you, the skinny is they produce platinum plans to reduce our 12 in vinyl body shape to fit into sleeker, 7 in. sleeves. Don't eat those, eat less of this, and only drink 4 oz. of that.
Deny, deny, deny. Problem is all the don'ts needle us into a groove of perpetual mental negativity.
As I write this, I'm listening to an old 45 of The Hardest Button to Button, by The White Stripes, while eating a clean–more aptly described appetizing-destroying–lunch of lettuce, tuna, tomato, hard-boiled egg, and sunflower seeds. With no dressing.  It's delicious. That's what I told myself in the mirror while mastering my morning mantra of ah sounds which included tun-ah.
I'd much rather be scarfing down a big, fat Philly cheese steak with a side of fair fries soaked in ranch, but my age blimps a bold "NO" banner across the sky. Thanks a lot, Ms. Metabolism. Getting old is garb-ah-ge.
If the healthy living trends continue to error on the side of constraint, we might as well become fans of the band, Wagon. But instead of force feeding ourselves less than desirable meals–really void of any redeeming reason other than some expert claims they're healthy (if you say so), how about we put a positive twist on the regulation genre by ridding our body of the debilitating twin-spin toxins of doubt and worry.
Perhaps all we need is some prayer, fruit of the vine, and salt of the earth to sample our way through the probiotic, paleo, and clean markets?
So, let's get this worry-a-holics meeting started and delve straight into the nitty gritty of the 3-step spiritual detox. Remember, giving up doubt and worry is a double-negative in this diet, which mathematically equates to a positive result for our future mind, body, and spirit wellness.
1. Practice Prayer – Probiotic for Gut Health
Worry wrecks our gut. Stress causes upset stomachs which can lead to ulcers among other unfavorable side-effects.  I've been there, done that. Whatever problem I was worried about wasn't alleviated one iota by my belly burning belly aching.
According to nutrition expert, Keri Glassman, research suggests a gut/brain connection in addition to other gut/ailment connections.  If we translate the scientific evidence into spiritual reasoning, worry represents a bad bacterium that weakens our mental stamina towards hope and perseverance.
What if prayer is a probiotic, or good bacteria, which can infuse a healthy dose of trust in our thoughts and actions towards struggles, concerns, and crisis?  Jesus made a regular habit of escaping from the crowds to pray.[1] And if he had to spend forty days in solitude petitioning the Father, we better bank on exponential proportions for ourselves.
This is why I loved the box office success, War Room.  If you haven't seen the film, please take the time to watch its inspirational message on the power of prayer.  My life is a testimony of turning scriptures into prayers as a means of fighting a battle or winning a war. The ones you see below are the real deal from my war room collection.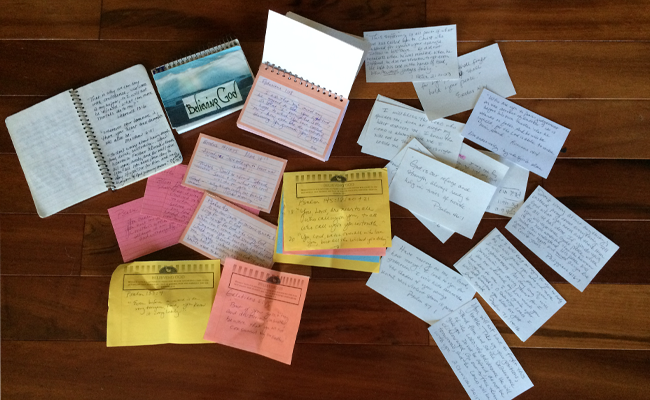 And when we are discussing the negative effects of doubt and worry,  we are engaged in a war between the nations of me, myself, and I; the most invincible foes in the tug-of-war between self and surrender.
One of my scriptural stand-by requests is this, "Lord, help me not to worry about anything; instead, remind me to pray about everything. I will tell you what I need and thank you for all you have already done. If I do this, I will experience your peace, which is far more wonderful than the human mind can understand."[2]
2. Be Hunters/Gatherers of God's Word – Bible Paleo
Doubt feeds the façade of failure. When we doubt, we put the brakes on God's power to prevail and may even blame Him for not fixing a situation. Been there, done that multiple times over many years. I've built quite the falsehood of inseparable suffering.
The Paleo diet is based on emulating the hunter/gatherer regimen of cavemen who feasted on meat, fish, and lots of fresh vegetables and fruit. What if we liken this diet to satisfying our appetites for fear with the fruit of the vine, the vine being Jesus, and the fruit being the Gospel truths and promises about doubt and worry?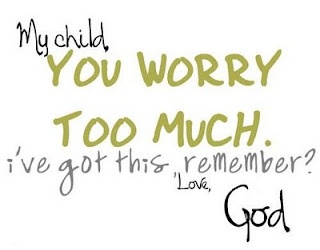 Jesus spoke some plain-as-day commands in the Gospel about cutting out all the bread, cookies, and ice cream in our lives. No need to spin the message in a salad twirler, the words speak for themselves,
"That is why I tell you not to worry about everyday life—whether you have enough food and drink, or enough clothes to wear. Isn't life more than food, and your body more than clothing? Look at the birds. They don't plant or harvest or store food in barns, for your heavenly Father feeds them. And aren't you far more valuable to him than they are? Can all your worries add a single moment to your life?
And why worry about your clothing? Look at the lilies of the field and how they grow. They don't work or make their clothing, yet Solomon in all his glory was not dressed as beautifully as they are. And if God cares so wonderfully for wildflowers that are here today and thrown into the fire tomorrow, he will certainly care for you. Why do you have so little faith?
So don't worry about these things, saying, 'What will we eat? What will we drink? What will we wear?' These things dominate the thoughts of unbelievers, but your heavenly Father already knows all your needs. Seek the Kingdom of God above all else, and live righteously, and he will give you everything you need.
So don't worry about tomorrow, for tomorrow will bring its own worries. Today's trouble is enough for today."[3]
Pretty sure Jesus dropped the mic and walked off the hill after this one.
3. Choose Love Over Fear – Clean

Eating

Living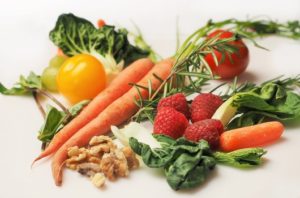 The buzzword "clean eating" has infiltrated the diet and nutrition world. Green smoothies, organic organics, chia, flax, avocado, edamame, coconut everything, basically all-things unboxed. This fad happens to be my favorite diet which I implement every-other second Tuesday.
Clean foods are edibles which come in the purest form, unprocessed and light.  The definition is almost too easy an analogy to choosing love over fear. Who represents love in the purest form, the unprocessed salt of the earth, and Light? Click & Tweet! Um, yes. Jesus. He is the only item on the ultimate grocery list for clean living.
And to make it even easier, He gave us a simple recipe to follow in two steps: Love him with all our heart, soul, mind and strength. Love our neighbors as ourselves.
When we bake that at 350 degrees for an hour, we get the perfect peaceberry pie. Choosing love over fear means we abstain from doubt, eliminate saccharine stress, cut out rich and saucy worry, and avoid fried fear. Easy peasy? Don't we wish.
Sometimes when life has too many cooks in the kitchen, reducing our fear to a glaze seems unattainable. But again, God calls us to read His ultimate cookbook which has a plethora of kitchen basics relating to love, one staple being, "There is no fear in love. But perfect love drives out fear…"[4] If we believe in love, believe in God's love, believe God is love, and believe we are made in God's/Loves image, choosing love will come naturally. [5]
If we still feel we need a little boost to get us over the hangry humps, as a dietary supplement to our detox and as a way to commemorate the first miracle Christ performed, we can always implement the wedding-at-Cana-heart-healthy-liquid-diet. In moderation of course. You know the Jesus turned a bunch of water into more wine, more wine to satisfy the guests cleanse, i.e. the Mediterranean Diet Meal Plan. With this heart-healthy alternative, we can find relaxation and comfort in a goblet of Merlot.
And if we get the pangs, the diet allows us baked grains (the politically correct dieters way of saying bread) dipped in seasoned olive oil.
Yum.
Detox on, crazy Mommas!

Linking up with friends:
[1] Luke 5:16 [2] Philippians 4:6-7 [3] Matthew 6:25-34 [4] 1 John 4:18 [5] 1 John 4:8