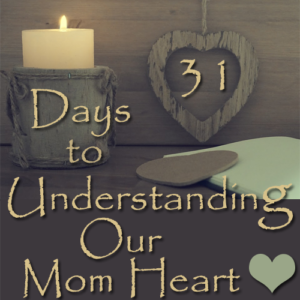 Hugs and Welcome!
Thank you for stopping by to join in on the 31 day conversation aimed towards understanding the emotional wellspring within our mom heart.
I don't know about any of you, but my heart was ill-prepared for the miracle of motherhood. Of course the loving on my kids part was easy and came natural.
But what I found along the journey was how little I knew myself, how much I lacked in the self-love department, and how strong a grip insecurity had on my daily parenting decisions.
The best way to describe my experience, both in relation to my spouse and my children, is
I didn't know who I was as a part of someone else. 
The murky waters of self-awareness made navigating the ages and stages of mothering (and marriage) difficult. As moms, we don't know how we are going to act, react, make decisions about anything until life happens. And when our world buzz saws on its axis, a given in child rearing, finding time to understand our inner world seems impossible.
For me, as mothering consumed my days, the questions, fears, concerns ruminating in my mind far outnumbered any answers.
Being a mom is a tough gig; albeit rewarding beyond measure. I'm grateful to say, after twenty-three years of marriage and twenty-two of parenting, my understanding of who I am breathes deeper.
Christ awakened me to beautiful truths and freed me from debilitating lies about my true self. He unveiled layers around my mom heart with gentleness and Grace. And He continues to enlighten by reminding me
[su_quote]

the depth of our being, the essence of who we are at the core of our heart in relation to our children and others, is an evolving transformation of awareness. The closer our relationship with Jesus, the more we understand ourselves and the world around us.

[/su_quote]
The best gift He gave me was a profound knowledge of who I am as a part of Him – which reiterates in perfect harmony who I am as a wife and mother.
And I'm hoping as we gather this month as sisters in Christ connected by  heartstrings, we will learn more of the amazing ways God instructs, guides, and carries us through our ministry of motherhood.
Every day between now and October 31st, I will share a short (you're welcome) reflection, story, prayer, or similar piece on the topic of understanding our mom heart. My prayer is for all of us to gain greater insight into the ebb and flow of our motherhood emotions, with God as our guide.
A link taking you to each day's reflection will appear on this main page each morning.
Thank you for coming along for the ride. Please know I will be praying for everyone along the way. A blessing is guaranteed where two or more are gathered.
I look forward to meeting everyone, so please introduce yourself in the comment areas! If you would like to sign up to receive an email with the daily post link, subscribe here.
[su_divider top="no" size="5″]
[su_posts posts_per_page="30″ tax_term="122″ tax_operator="0″ author="1, 2″ order="desc"]

Linking up @ Grace & Truth linkup and  Faith Filled Friday