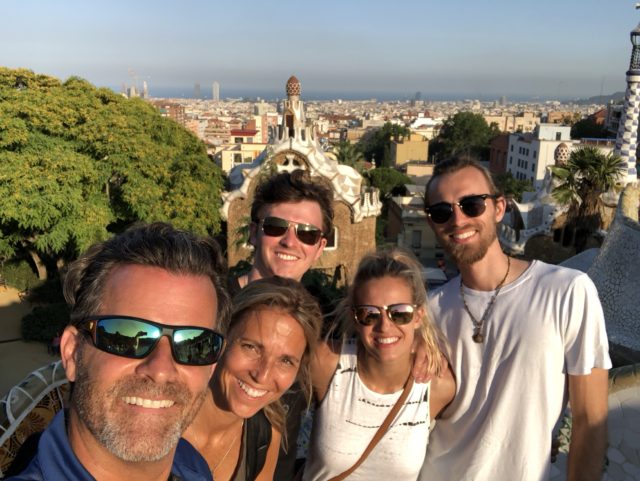 Welcome In Love!
So, this is my fam damily! We just took a trip to Spain and apparently I lost my sunglasses for this picture. The guy next to me crushed my heart at first sight. After a ten-minute chit-chat with him my junior year in college, I rushed home to tell my best friend I found the man I'm going to marry. She cackled, rolled her eyes to dangerous levels, and told me I was crazy. Twelve months later he proposed. And here we are, 25 years later, still 'crazy' in love.
Life is much quieter these days as my mom heart adjusts to an empty home. God dropped three apples from my mom tree in the first 3 1/2 years of our marriage, and somehow they've all grown up already, having left the orchard in pursuit of their dreams. My faithful dog, Charlie, fills in the gaps.
Motherhood is a gift. Timeless, priceless, patternless, and endless. This journey we share as sisters in Christ and mothers by heartstrings allows us to connect in the deep recesses of our souls in ways only a mother can understand. Our struggles are real and anxieties universal, which is why I created this space. Leaning into one another and sharing stories helps us connect and find solace in knowing we aren't alone on a motherhood island. Though our journeys are unique, our dreams, fears, joys, and sorrows overlap.
Facebook
Twitter
Pinterest
Instagram
StumbleUpon
I invite you to join me as we wander into our mom hearts in search of our true self and reach upward to Jesus for guidance and understanding. Here we will celebrate and mourn, laugh til we cry and cry til we laugh. My role is to help you to feel loved and accepted for who you are, precisely where you're at. And from that launching point, I'll pray you forward.
Besides this homefront, you'll find my writing out and about on the internet frontier at places like  Her View From Home, Parent.co, For Every Mom, Thrive Global, HuffPost, Sammiches & Psyche Meds, If you are a fan of Guideposts, I've had a couple stories printed there as well in the July 2017 issue, The Inspiring Tattoo Connection,  the February 2018 issue, "Goodbye, Kahrin." and a coming soon in the January 2019 issue.
Looking forward to your friendship as we swap stories of motherhood and how LOVE guides us through. Please feel free to reach out. You can contact me here.
Let's know love and #BeLOVE, sisters.