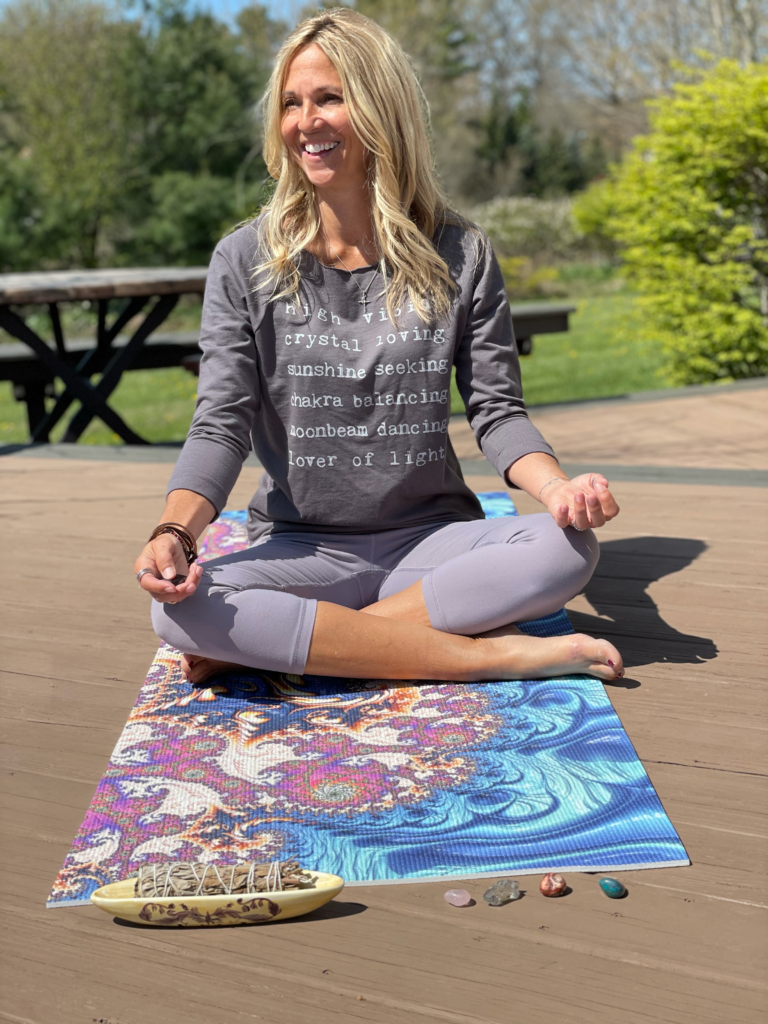 Hey friend!
Are you struggling in a certain area in motherhood, marriage, or life in general? If so, you aren't alone. This gig is hard and we aren't meant to figure it all out on our own. I tried to do that for a long time and when I was 35, I found myself face down on the floor, completely undone, begging God to take me. I thought my husband and three kids (ages 11, 9, & 7 at the time) were better off without me.
I couldn't manage my emotions, felt out of control, and the guilt, shame, and despair of not being able to affect change in my life was overwhelming. I tried praying everything away, which didn't work and only made me feel worse because I was already believing some pretty lousy stories about my worth, enoughness, purpose, and loveability— which I later learned was all tied to my childhood sexual abuse and other family trauma. Feeling like a failure as a "Christian" woman only added to my misery. So, on this dark night I cried out to God from the depths and asked for me and, thus, my entire family to be put out of our misery.
God didn't bail me out…at least not the way I wanted because I'm still here! Thank you, God. But God did bail me out the way I needed. After I woke up from my dark night of the soul and realized I didn't get my wish, I dragged my broken self into Church the next morning. The first person I saw was a family friend who changed my life forever. After collapsing in his arms and becoming inconsolable, he pressed a business card in my hand and said, "This is a dear friend of mine. Go see him. He will help you."
Thus began what is now been a 18-year journey of healing, unraveling, recalibrating, transforming, unlearning, descaling, and you name it 'ing.' And after all these years of talk therapy, meditation, energy healing, hypnotherapy, and countless other healing modalities and practices I've incorporated into my life, I can whittle down the most important lesson I've learned (from the late, great Wayne Dyer) that is the answer to our suffering: when you change the way you look at things, the things you look at change.
And you don't have to wait for a crisis or tragedy or dark night in your life to experience such a shift. Yes, those work. And I've had many transformational moments that happened on the backside of a trauma or crisis that have led to deep healing over the years beyond my own dark night on the floor. But we don't need to wait for those significant events to force us into change. We can make a conscious decision to change our life right now. At this moment. We have that superpower ability to look at what's not working, notice where we feel stuck, hurt, or unmotivated, and shift our mindset so we can heal and thrive.
Our bodies are miraculous and have the power to heal themselves. And the cool thing is, we can kickstart these miracles with our mind. 
In 2021 I was able to wean off my Lamictal medication for a bipolar diagnosis after 13 years. My body healed itself from all the trauma trapped inside me that was convoluting how I saw myself and the world. I did a lot of hard, intentional work, and it was worth every bit of it. Because today I'm "free." Free from the box I was trapped in for so long, believing all kinds of shady stories about my value and worth. Believing all kinds of limiting beliefs and faulty narratives about other people and experiences in my life because of looking through the cloudy lens of past negative events, social conditioning, oppressive constructs, etc. Today I'm free to be my authentic self, stand in my truth, and use the tools I've learned to keep working through the inevitable struggles that come our way in life.
And did I mention that my body also just healed herself from a gnarly dairy allergy that manifested in 2018 after experiencing months of intense emotional stress? Well, she did, and I'm here for all of it. Here's a link to the story. Since then I've also healed from a gluten allergy, red meat allergy, and lots of other digestive issues.
Now it's my time to give back and share all I've learned so others can experience the same freedom. So others can consciously create a life that they love and really love themselves and others the way I've learned to. So others can get unstuck and change their stories and move away from whatever disempowering thoughts and shaky beliefs are keeping them stuck.
What this means going forward is I have a whole lot of love to spread and wisdom to share from my experiences and all I've learned from the 700+ books I've read from some incredible humans, not to mention hundreds of podcasts, documentaries, and seminars I've listened to or attended in and around all things becoming a better me and "we."
Yes. I'm obsessed. Why? Because I love my kids, hubby, family, friends, and the world THAT much. And I'm grateful for this life God's given me and want to squeeze out every ounce of joy from the experience and spread it around. I want the same for YOU. We are all One, after all. Everything we do for ourselves we do for others. Everything we do for others, we do for ourselves.
In addition to all the legwork above, I am now a Certified Emotional Intelligence (EQ) Coach and Certified Meditation Teacher (CMT). (You can meditate with me over on the FREE Insight Timer App) Please reach out and let me know how I can help. My gift to everyone is a complimentary 30 min coffee chat via phone/video chat/in-person (if local) to connect heart-to-heart and share what I have to offer as I listen to your needs
If you are one of those people looking for a friend and guide to inspire and encourage you forward, I am here for you…
How can I help?
Contact me at [email protected] and we'll chat!

Loving feedback from others