hey mommas
One thing EVERY mom on the planet needs is this: to know she is not alone in how she feels. We are all overwhelmed by motherhood at some point or another and in dire need of love & encouragement
Have you ever laid awake at night and asked yourself, "Why do other moms seem to have it all together when I'm over here exhausted and overwhelmed? Will I ever figure this mom thing out and feel like I'm enough for my kids? When does the worry end?"
Sigh.
If you have, you're not alone.
Motherhood is hard whether you are a new mom or an empty nester with 30 years of experience. All moms struggle with these big emotions, which is why Lisa and I wrote this book. How Are You Feeling, Momma? (You don't need to say, "I'm fine.") is a safe space to turn to when trying to manage your biggest fears, deepest regrets, and heartfelt longings as a momma.
In this book, we give you a peek into our hearts as we share 62 authentic and candid stories from our motherhood journeys, giving you two perspectives on how we dealt with 31 momma emotions. Whether you feel anxious, afraid, confused, depressed, overwhelmed, worried, or otherwise, our reflections are full of loving encouragement and practical tools to help you process the many emotions of motherhood. In addition, the book contains over 70 scripture verses and Psalms to help you feel fully loved, fully seen, and fully heard as you cling to God's promises and apply them to your mom life.
Sometimes simply knowing we aren't alone in how we feel is enough to help us do hard things. Consider this book a big group hug and wash of Grace for all of us.

P.S. SCROLL DOWN if you want to hear the story about how Lisa and I wrote this book even though we STILL HAVE NEVER MET IN PERSON! I'm overwhelmed by the beautiful virtual friendship we share.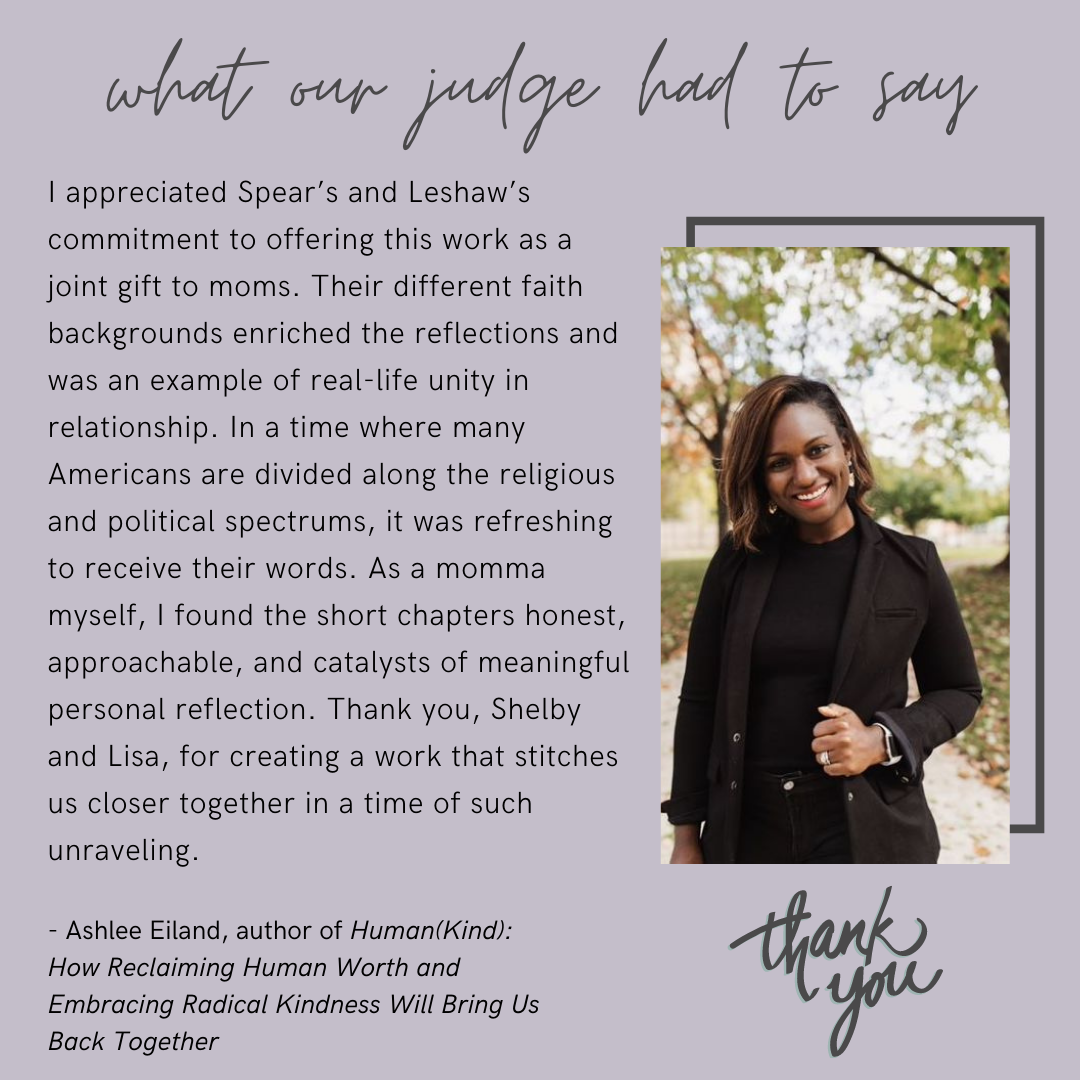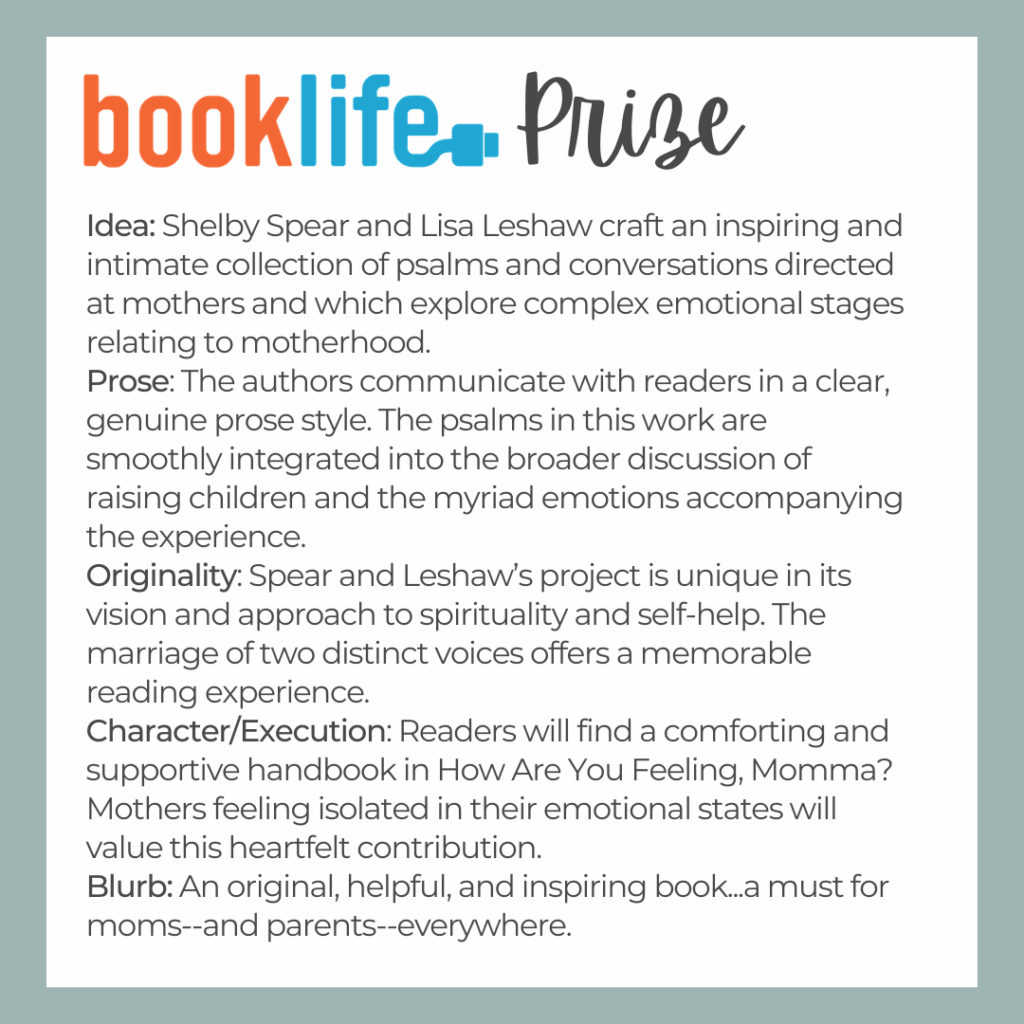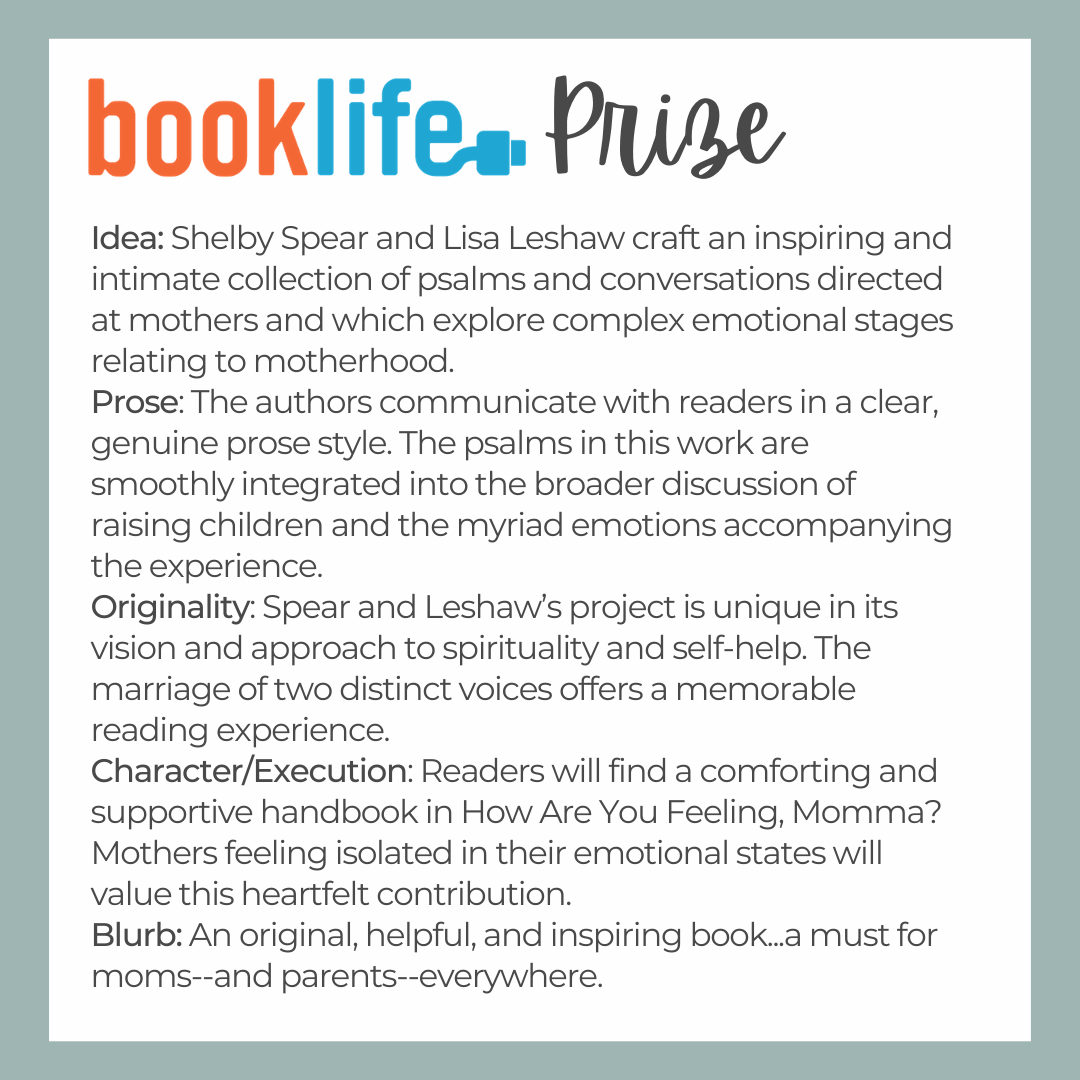 Judge, 27th Annual Writer's Digest Self-Published Book Awards
Entry Title: How Are You Feeling, Momma? (You don't need to say, "I'm fine.")
Author: Shelby Spear & Lisa Leshaw
Judge Number: 28
Entry Category: Inspirational
● Books are evaluated on a scale of 1 to 5, with 1 meaning "needs improvement" and 5 meaning "outstanding".
Structure, Organization, and Pacing: 5
Spelling, Punctuation, and Grammar: 5
Production Quality and Cover Design: 5
Plot and Story Appeal: 5
Character Appeal and Development: 5
Voice and Writing Style: 5
Judge's Commentary:
Outstanding opener to the book, as the authors establish a nice, relatable foundation so that the reader feels heard, understood and supported (i.e. "there are common issues we all face" that helps with a sigh of relief.) Beautiful embracing of the reader. We know we are spending our time well with this book, as comfortable as we're invited to feel right from the start.
'Each chapter will drench you in grace' is a standout example of the authors' lovely use of description in sensory detail that brings their words to life. Beautifully done. I loved the spotlight on 'fake it till you make it' insights that can often sprout feelings of inauthenticity and dread. That alone is a book's worth of healings and straightening out outdated advice. Well done.
Personal Reflections sections are strong, with fresh leading questions and plenty to assess. The authors identify which of them is speaking, deftly avoiding confusion. We get a duo of identifiable voices with fabulous transitions between them. Well done.
Authors have avoided danger points in sharing a narrative and providing a nice sense of organization in their content. Scripture is nicely-chosen with a fine mix of known and little-known Scripture to give the reader excellent inspiration, and – when they do recognize a bit of Scripture that they do know – a sense of self-confidence, that they are a bit on the right track with the things already in their knowledge. Very well done. This is accomplished through providing such a wide range of insights, questions, considerations and beautifully-chosen material when warranted. Not overdone, not skimpy. I found that to be one of the many strengths of this book.
Halfway through, we are reminded that God will 'stop and stay awhile' so that the momma does not feel alone. Excellent moment here! Authors remind the reader in multiple ways that she is not in this walk alone. Lovely. Repetition is a big strength there, as are equally energetic writing voices, a smooth edit (which can be a challenge with two authors!) And wow, what an ending with all of the Scriptures. Great job.
How We Came to Write a Book from a Distance