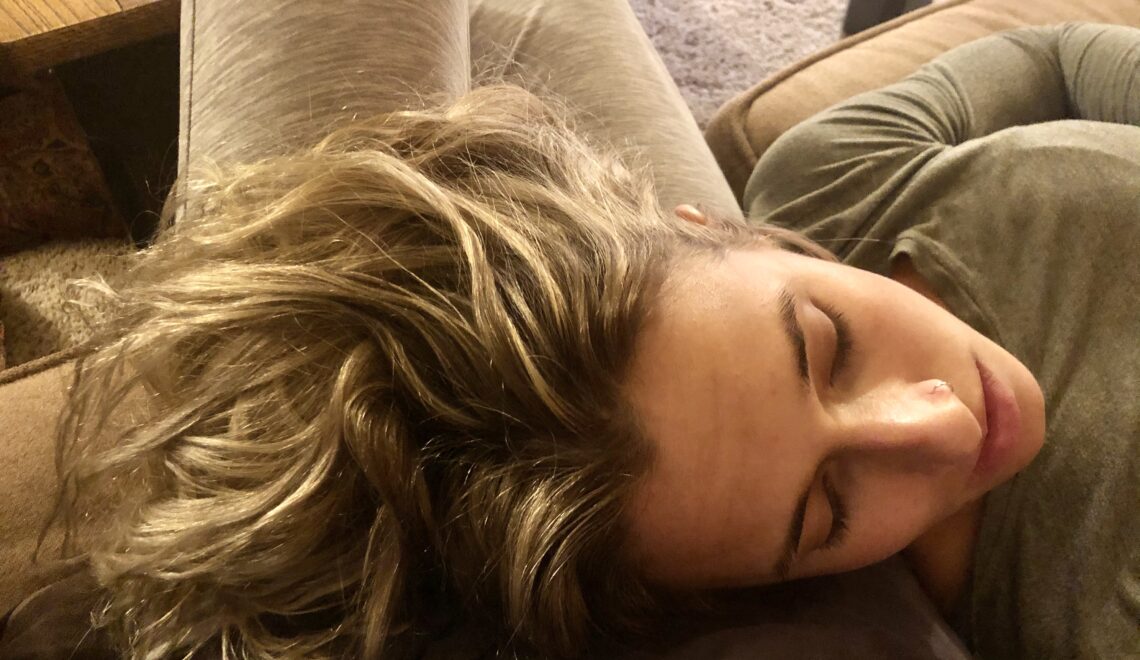 Mommas, it doesn't matter how old our kids are; they always long for our love and the comfort of our gentle touch.
The picture below captures my grown daughter's head on my lap. Whenever she comes home for a visit, this is often one of the first places she plops herself down, longing for me to run my fingers through her hair.
I've done this a million times over the years, and it never grows old for either of us. She's also still a huge fan of getting her back scratched, and typically sprawls herself on top of me just like she did as a toddler
But, she's 22 now, friends. Twenty-two.
Even my boys swoop in for a head and back scratch now and then, and they are 24 and 26.
I am here to encourage all of you not to spend too much time worrying about what might come to an end as your kiddos grow up. Even if they have moved into an 'I don't want to snuggle anymore' phase, this doesn't mean their longing won't resurface.
I mean, as grown women with children of our own, don't we still find comfort in the gentle touch and warm embrace of our mom or dad? Receiving love from a parent is a timeless salve to the soul. We'll long for their affection forever, even when they transition to the other side of this earthly life.
Our kiddos are the same, no matter the age, no matter the season–even if it feels like they want nothing to do with us. Their emotions are complicated as they move toward independence, which often means their behaviors follow suit. But underneath the facades is a genuine desire to be seen, known, and loved. What a gift when they let down their guard and let us do all those things for them.
May we all embrace these tender moments when we have them, without any thought or concern about what is to come. I spent too many years embracing sadness as ages and stages turned the hands of time, only to learn that adult children have a way of filling the empty in unexpected and heart-expanding ways.
Motherhood will always surprise us. We don't know what we don't know until we know.
Until then, let's be "all in" to what we have right in front of us.
xo

How's your mom heart feeling these days? Enjoy 3 FREE Chapters of my new book with Lisa Leshaw, How Are You Feeling, Momma? (You don't need to say, "I'm fine.")  Or order your copy today AMAZON  BARNES & NOBLE